Here is a list of the top barefoot shoe brands on the market:
Be Lenka
Groundies
Merrell
TSLA
Vibram
Vivobarefoot
Xero
It was not too long ago when it was almost impossible to find a good pair of barefoot running shoes. This was not for a lack of product on the market. It actually came down to to the designs of the ones that were available.
To the average consumer, these shoes were simply not as visually appealing as we have become accustomed to. One of the first barefoot running shoes that I came across the five finger versions.
There was no way I was going to be seen wearing one of those. And the search barefoot shoes were put on the best burner and I continue to tread on the cushions shoes. Today, things have changed tremendously due to the number of amazing manufacturers coming to the market.
With the increase in popularity of the forefoot running shoe, the technique on the rise as well. These barefoot shoes have changed the way we look at these shoes available through some of the best available in the market and why we love them.
Be Lenka
This one is fairly new to us it was only a few months ago that we came across it and are pleased to say that we've not been disappointed.
Not only does a brand carry a wide range of products beyond the minimalist shoes, but they are fairly well-made products as well. The company is based in the Czech Republic and ships its products across the world.
Part of the manufacturing process is handmade which makes for better quality control. Their products come in several different colours as well as different lengths of the shoes.
They are geared to provide you with shoes that can be worn casually as well as those that are slightly more formal or perhaps, dare we say fashionable.

Groundies
Between this brand and vivobarefoot lies the perfect brand for those of us who do not want to look as though we were in bed with shoes even though we are.
Their design is incredibly minimalist with a true sense barefoot sole. their shoes are available in a wide range of styles and designs.
The brand describes itself as an "urban minimalist brand". this is likely due to how stylish shoes are in comparison to order shoes in the market.
There is no doubt that their shoes are of a high quality. they are incredibly flexible which makes them easy to pack away for trips. This also means that they are are not restrictive of your foot movement.
They deliver a great balance between freedom of movement and comfort. This is a brand from Germany. they shipped shoes across the world.
Merrell Barefoot
Merrell has been around for as long as most of us can remember. they've been at the front line of footwear manufacturing especially when it comes to outdoor footwear.
They came to the barefoot, minimalist shoe market we knew that the products were going to push the market a bit forever than it had gone at the time.
Since then released some flagship products that are perfect for barefoot runners. The emphasis has always been on producing high quality products that are lightweight.
Going with the brand that is as highly regarded as Merrell means that you have that little bit of peace of mind in knowing that in most cases you're getting a good product. We love their trail running shoes.
Tsla
Anyone who has used Tesla shoes will admit they look like some of the designs that you would find from Brands like Merrell. what you will get from this brand are shoes that are incredibly minimalist.
As with Merrell, you'll also find that Tesla shoes are lightweight and flexible. They come in some of the most vibrant colours that you will come across in this category of shoes.
Most of these shoes from this brand have a toe cap to protect your toes in when you strike against a hard surface. they all come with a pull tab on the rear end to make them easy to get in and out of.
As you expect from barefoot shoes these are zero drop. There isn't much that can be said about the overall quality as quality control can be hit-and-miss with this brand.
Vibram
Vibram as the type of salt that is used by a lot of barefoot brands for the shoes, in fact, shoe types that are not necessarily barefoot also make use of Vibram soles.
As a result, you'll often find it it is known for for its flexibility, durability and ability to provide you with great traction. all these characteristics come in handy for barefoot shoes.
If you're going minimalist you better get it right. the most popular shoes from Vibram five fingers ones that we mentioned in the introduction.
They seem to have passed the test of time comma as I feel as though I could put a repair today without the worry of becoming a social pariah. If you are looking for minimalist running shoes, this is a good brand to consider.
VivoBarefoot
 If you've read content on this site you'll be fully aware that we are big advocates or perhaps even evangelists for vivobarefoot minimalist shoes. This is funny because these are are the first barefoot shoes that we found to be visually appealing.
Be on that I cannot think of another barefoot brand that carries as much variety as this brand has. they have shoes for all toddlers and for all sorts of outdoor and indoor activities.
All of their products are handmade. we also love the fact that this brand partners with indigenous Communities from Africa and other parts of the world to create iconic footwear.
You'll also be pleased to find that all of these shoes are incredibly flexible which allows your feet to move with freedom. 
This is a brand from the UK. They are widely distributed across the world as well. One of our favourite ones is the Vivobarefoot primus.
Xero
 the first time we encountered this brand was on the pitch on the US programme shark tank. then going on to build a world-renowned footwear brand that carries various types of shoes.
They're not strictly barefoot shoes for the most part. they produce shoes that are barefoot inspired.
This is to say that the shoes are incredibly minimalist On The Soles. They ship across the world to most countries. One of their best features is the wide toe box. We also love their trail running sandals.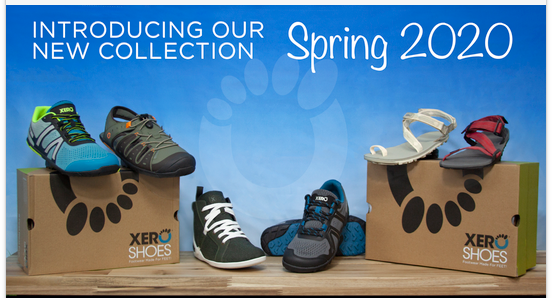 If we have missed any of your favourites, let us know in the comment section. It is worth mentioning that there are some brands such as New Balance that also make great barefoot minimalist running shoes.
Latest posts by Dave & Clare Thompson
(see all)