Are you looking for the best minimalist shoes for kids? 
Are you going to a child's birthday party and looking for the perfect pair of shoes to give as a gift?
Perhaps your child is about to start school, and you want the best shoe for them.
Or maybe the shoes that your child is currently using need to be renewed, and now you are wondering where to get the best and what the best is. 
Children's shoes often come in various "cute" designs that focus on making the child look certain. One of the major mistakes that people make is to look for a shoe that mimics adult designs. It is important to always keep in mind how a child's foot operates.
It is different from how adults' feet work. A child's muscles are still developing, and this includes the foot muscles.
No one is born walking, every child needs to learn to walk, and this process needs you to allow your child's feet to develop naturally. 
This is one of the reasons why parents and guardians are advised to let their children walk around without shoes for as long as possible.
The muscles in the feet need time to know how to grasp the ground and communicate that information back to the brain.
Forefoot Running Shoes
| Photo | Name | What We like | |
| --- | --- | --- | --- |
| | Merrell Boys' Bare Steps Sneaker | The soles are reasonably flexible. Suitable for children with wide feet as well. The shoes are lightweight. | |
| | Vivobarefoot Primus Kids | There are a variety of colours to choose from. The soles are very flexible. They are very comfortable. | |
| | Vivobarefoot Ababa Leather Kids | The shoes are lightweight. They have a durable sole. They are quite flexible. | |
| | Native Unisex Kid's Jefferson Slip-On Sneaker | They are very easy to clean. They are easy to get in and out of. They have durable rubber soles. | |
| | See Kai Run - Ryder Athletic Shoes for Kids | They are lightweight. There are several fun colours to choose from. They are machine washable. | |
Wearing shoes too soon can hinder this natural progression, and this is why children need to be in minimalist shoes as often as possible.
Minimalist shoes have minimum material between the foot and the ground and this allows for a considerable amount of natural movement.
In this article we take a look at the best minimalist shoes for kids and why you need to be looking to buy them. 
In a Hurry
Do you need a quick guide to buying the best minimalist shoes for kids? There are a few things that you will need to keep in mind.
By definition, minimalist shoes have the least amount of material between the foot and the ground.
This means that it is one of the first things that you will need to be on the lookout for when you are shopping for minimalist shoes for kids.
Read the label and see what material it is made of and also how comfortable it is. Your child's feet need a material that is supportive but at the same time comfortable for them to go about their business. 
Check on how the shoe fastens or if it is a slip-on. Kids are very active and this means that you do not want a shoe that easily comes off.
Look for a pair that will stay on. You may also want to check on how flexible the shoes are. They should not be too restrictive.
Also, check on the soles of the shoes and see if they complement your child's foot shape. Avoid shoes that restrict the toes and can potentially cause injuries.

Our Top Pick
We have done our research and found our top pick to be the Native Unisex Kid's Jefferson Slip-On Sneaker. These shoes are available in a variety of colors which makes it easy to choose the one your child will swoon over. It is lightweight and it will give the child freedom to run around without lugging around any extra unnecessary weight.
The design is timeless and easy to wear.  They are also very appealing to the eye and kids will easily pick them out on a shelf. For parents and anyone taking care of the child, a major plus is that these shoes are easy to wash and they are also odour resistant. 
Product Reviews for Minimalist Shoes for Kids
Merrell Boys' Bare Steps Sneaker 
Most of us will agree that suede is a good look. If we love it why shouldn't our little ones have the same privilege?
These shoes are made out of 100% suede. They have rubber soles and the soles, of course, come in incredibly handy when it comes to kids.
They need all the traction that they can possibly get. This is especially true if you have a child who loves to run up and about. The soles of these shoes are also designed to be durable. 
The shaft of these shoes measured low top from the arch. In most cases kids will not require a lot of light support, however, it never hurts to have it.
Another incredible feature that kids will love is the fact that these shoes have extra-wide toe boxes. This allows for their tools to be able to wiggle about without much restriction.
The outsides of these shoes have rounded edges which are designed to compliment your child's natural foot shape.
Underneath the shoes are flexible groups which stuck from the outsole. These provide a sort of barefoot feel for your child.
The closure system is such that your child could get in and out of the shoes with ease. You also have the M select grip to give you a flexible non-marking fraction.
Finally, you will be happy to find that these shoes are made out of recycled material.
Pros
The soles are reasonably flexible.
Suitable for children with wide feet as well.
The shoes are lightweight.
They are very comfortable.
Made from recycled material.
Cons
They are not barefoot shoes.
The front end gets scuffed.
Vivobarefoot Primus Kids
When it comes to minimalist shoes, not many brands will stand in the way of vivobarefoot shoes. This is what this brand is known for. The design of these shoes is inspired by the famous Primus Lite, which is an adult version of these uses.
As minimalist as the Primus Lite is, it has even been stripped further down to ensure that they have a more suitable version for the little ones.
The bulk of the material used on the upper part of these shoes is recycled plastic. There is zero leather used on these shoes. 
As for barefoot shoes, your little one will have the privilege of trading freely with minimal hindrance from the shoe.
They provide sufficient underfoot protection without robbing the child of the sensory sensation that comes from trading directly on the ground.
The upper part of these shoes is designed to be highly breathable, as you'd expect from shoes that are designed for children. 
The securing feature of the issues is hook and loop strap. This means that your child should be able to get in and out of the shoes with ease.
These shoes are designed to take on varied terrain. The outsoles are designed to ensure that there is a great degree of durability provided by these shoes.
You also will be happy to know that you can use these shoes all year round. Perhaps not when it is raining or too cold. These shoes are vegan.
Pros
These shoes are lightweight.
They are fairly flexible.
They come in exciting colours.
The outsoles provide great traction.
They are easy to put on and remove.
They are quite sturdy.
Made from recycled material.
Cons
They are not for cold weather conditions.
Vivobarefoot Ababa Leather Kids
The Ababa is one of our favorite designs when it comes to kids' shoes. I say kids but generally, it is an incredible shoe for others as well.
It is a simple slip-on shoe that makes it easier for the wearer to get about their day with little to no regard for the weight of the shoes.
They are true minimalist shoes in terms of their weight as well as in terms of the design. The manufacturer has kept the stitching to an absolute minimum. 
The upper part of these shoes is made out of Ethiopian wild hide leather. It is naturally scarred leather produced by small scale farmers from the African nation. This is part of Vivo barefoot Soul of Africa range.
The collaboration between the manufacturer and local communities goes such a long way to provide jobs and an income to the local communities while doing reasonably well for the business as well. 
The outsoles are made out of sticky rubber. This is incredible for delivering an amazing amount of grip and traction.
As you can imagine kids on the move need distraction. Above all, we are pleased to tell you that these shoes are incredibly durable.
The wild hide leather is obviously incredibly durable. The soles themselves are just as durable as the wild hard leather. It takes quite a lot to get them to wear out. 
Finally, we also love the design of these shoes. It is simple and fairly aesthetically pleasing. If your child loves stylish things this will fit the bill. 
Pros
The shoes are lightweight.
They have a durable sole.
They are quite flexible.
The design is minimalist.
They are made of wild hide leather.
Some proceeds go to the local Ethiopian community.
Cons
They are not vegan shoes.
Native Unisex Kid's Jefferson Slip-On Sneaker 
You can hardly get more minimalist than choosing one that requires no shoelaces. These shoes are made out of ethylene-vinyl acetate.
This is the same sort of material that you will find on Crocs. Without a doubt, Crocs are some of the most popular shoes among children.
That is mainly because they are lightweight and fairly comfortable. They are also very easy to get in and out of. All of those things that we love about the Crocs are present on these shoes. 
The soles of the shoes are made out of rubber. 
This tends to be one of the weaknesses of the Crocs. You see, the rubber soles ensure that the shoes are more durable than they would otherwise be.
The material that is used on the upper part of these shoes is slip-resistant. They have a total all over preparation which allows for the free movement of water in and out of the shoes.
For the sake of safety, these shoes also come with a toe cap. This means that when your child knocks their feet against the surface they are protected. Not only are these shoes shock absorbent but they are also hand washable. 
As with the Crocs these shoes are also odour resistant. There is incredible traction on the outsoles as you would expect when they are rubber soles.
The footbed of these shoes is an EVA one. As you wear these shoes for long periods this footbed molds itself to the shape of your foot. This is incredible to ensure that the shoes become more and more comfortable over time.
Pros
They are very easy to clean.
They are easy to get in and out of.
They have durable rubber soles.
They have an EVA footbed.
They have a toe cap.
They are made to be odour resistant.
Cons
Not suitable for chubby feet.
They don't come in half sizes.
See Kai Run – Ryder Athletic Shoes for Kids 
Our next pick comes from another incredible brand when it comes to kids footwear. this is a shoe that is designed specifically for those kids who are always on the move.
The material that is used to manufacture these shoes is able to take on both wet and dry conditions. According to the manufacturer these shoes are water friendly. They also come with that beloved toe cap. 
You also will be pleased to find that these shoes are fairly lightweight. The souls, as well as the upper part of the issues, are designed to be flexible.
This allows for your child's feet to move within the shoes with ease. It also means that their tools can flex and wiggle at will.
Another great feature of issues is the fact that once you have them on they're comfortable all day long. They also have an EVA removable sock liner. This allows you to enhance the amount of space available within the shoe. 
These shoes are also machine washable and they dry up very quickly. From a stylish standpoint, the shoes are fairly good looking.
They are cushioned on the inside just as they are flexible. The outsoles provide the child with a lot of traction.
The colour and the tongue of the shoe are both padded for enhanced comfort. The hook and loop closure system make these shoes easy to get in and out of. It is extra wide which makes it easy for the child to put the shoes on for themselves.
Pros
They are lightweight.
There are several fun colours to choose from.
They are machine washable.
They are highly breathable.
They are easy to put on and remove.
Cons
Quality control issues cited.
Be Lenka Kids Winter barefoot – Penguin.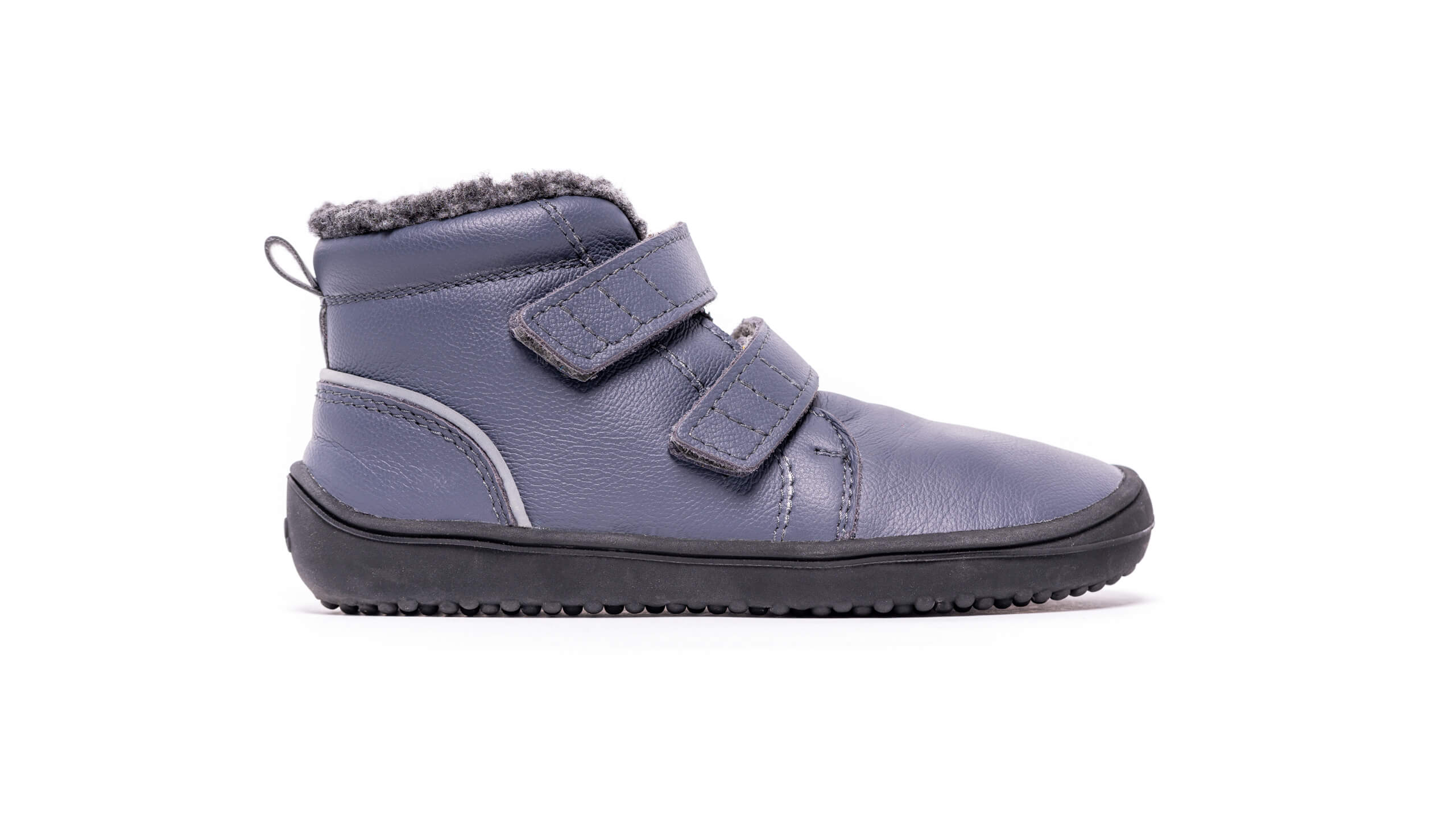 These are a pair of high-quality winter shoes that your children can wear without any socks. This is very attractive for parents who suffer to get their children fully dressed in the morning. They have been insulated with leather and can therefore offer your children a very natural expansive toe feeling.
Be Lenka Kids barefoot – Play.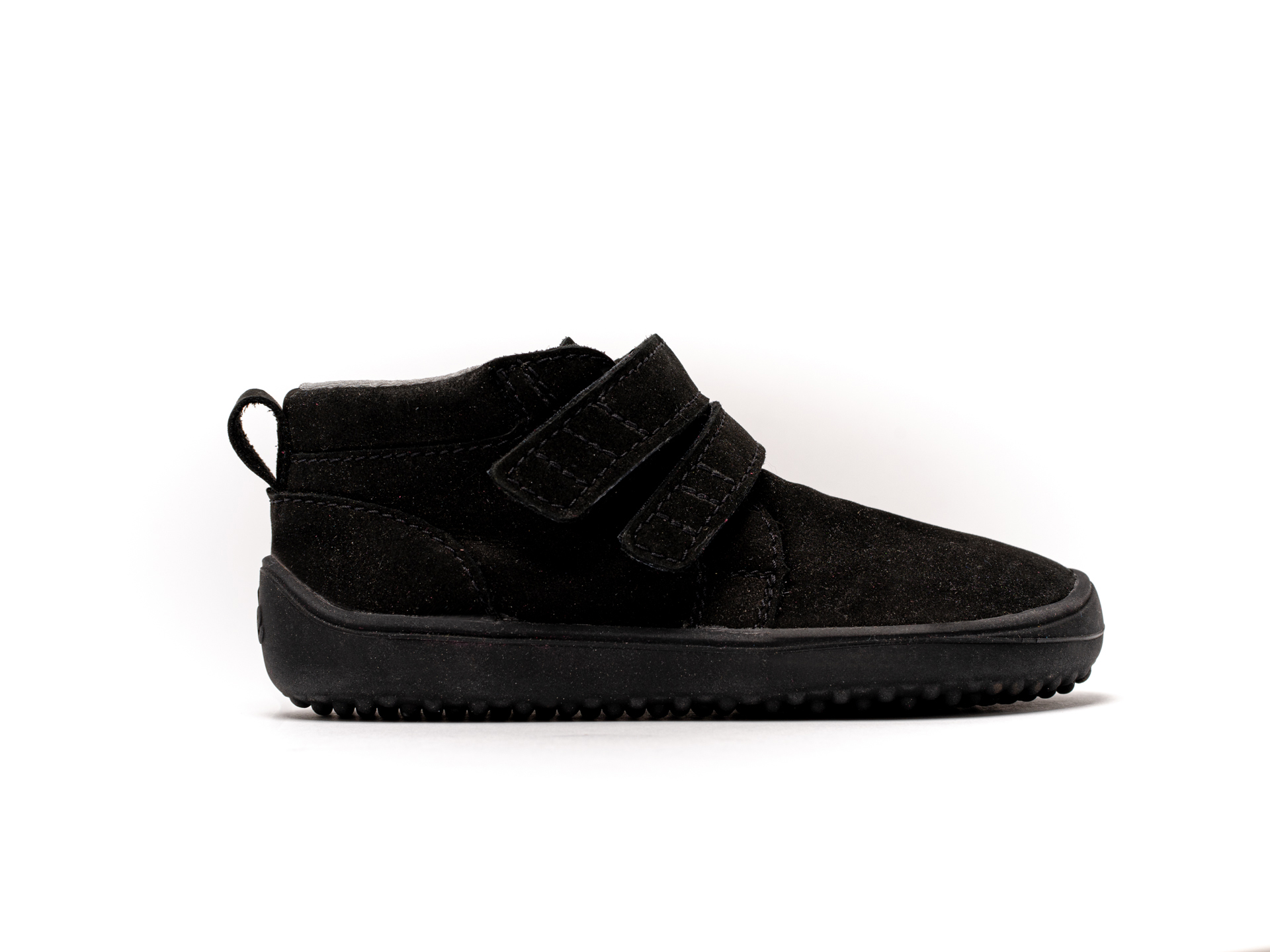 An adventurous option that brings together a combination of premium leather and growing space. This is very important for a young child. The design of the shoe is wide toed and supports bare feet very comfortably. It has a six-millimeter sole which offers a very ergonomic design.
PRIMUS BOOTIE II ALL-WEATHER KIDS
This shoe has an active outsole that will allow your child to run safely outside. It is made from recycled materials that have been insulated to keep them warm even in cold conditions. It is also appropriate for water-based activities because it is water-resistant. 
PRIMUS TRAIL II FG KIDS
This is a very natural shoe that has been made with animal-free materials. It is pretty sustainable and straightforward to put on. This makes it an excellent option for children. Its flexibility is highly impressive. The shoe can survive punctures and offers a very firm grip on the ground. It has an eco-friendly design that will help protect the environment.
ULTRA BLOOM KIDS
This is a premium barefoot shoe that is designed for better airflow and connection with nature. They are a very Eco light product that has a shallow carbon footprint. The boots are skinny, making them light and easy to run in. Their flexibility means that over time they will grow with your child's feet. They drain very quickly and drive quickly, making them very comfortable.
WYN SCHOOL II JUNIORS
The design of this shoe mainly focused on making it very tough and durable. It has versatile functions in operating as a fully barefoot shoe or a comfortable formal shoe that you can wear with socks. It has been designed to protect against pointy shoes as these can damage their feet. It is a comprehensive toe option that is both flexible and able to adapt.
ADDIS JUNIOR
This is a pair of shoes that have been hand-stitched to provide you with a natural and sustainable product. They are made from wild hide leather that has been ergonomically tanned. All the materials and quality used to make this shoe have been ethically sourced and ensured high quality.
ABABA BASQUIAT KIDS
A highly acclaimed late artist has made this shoe. It is made based on a combination of wild hide leather and embroidery. They come with a soft groundout soul that will show how to improve the balance of your child. The shoe's natural cow leather tongue will help protect against any injuries to the front part of the foot.
ABABA LEATHER KIDS
This is a kid's shoe that has been designed as a slip-on to allow for quick getaways. It is an ergonomically sourced product that makes use of a combination of cow and hides leather. The shoe is hand-stitched, which will ensure good quality and durability. It comes from a community of local Ethiopians who specialized in shoemaking.
ABABA LEATHER SANDAL KIDS
The wild hard left on this pair of sandals has been hand stitched and offers you a naturally scarred option. It has a Vevo branded strap at the top that will ensure that the shoe feels very insulated. They offer the child additional adventure and protection. The leather might be soft, but it is durable and flexible.
Prio Running and Fitness Shoe – Kids
These are a pair of shoes that should fit naturally due to the wide-toe design. It offers your child natural motion due to the flexibility and freedom provided. It is pretty lightweight and, therefore, effortless to get kids to keep on wearing them. They are made from vegan-friendly materials, which means that they have an eco-friendly design. It has reflective straps to help guard against not being seen, and it is barefoot friendly.
Z-Trail – The Ultimate Sport Sandal – Kids
The manufacturer of this product offers a 5000-mile warranty on the shoe. It is excellent for going on trails because it is lightweight. It can be worn barefoot and comes with a protective bare foam footbed. The soul is made from pure rubber, and this improves grip and durability. The straps are tubular; therefore, they are broader and more comfortable.
KSO EVO KID'S
This is a pair of shoes that give a very realistic barefoot feel. This is necessary for people that are looking for an optimal balance when climbing on a trail. The traction in the durability of the product is also highly responsive. This makes it quite an excellent option to choose for people going onto an unpredictable terrain—the main characteristics of this product stability and comfort.
Big Kid's Kahuna Web Sandal
If you want to buy a water-friendly shoe that can dry very quickly, then this is an excellent option to consider. It has been designed for excellent adaptivity with a double hook that loops over too quickly to secure its shoe. The footbed is based on soft foam, meaning it provides consistent cushioning. The shoes are pretty flexible and will not leave marks on the floor of your home.
Little Kid's Bare Steps® H2O Sneaker
This shoe has an innovative design that will allow the child to enjoy natural durability and traction. It helps improve balance as the child grows due to multi-directional grooves. The barefoot feel is very ergonomic and flexible therefore providing a premium feel to the shoe.
Little Kid's Hydro Quench Jr. Sandal
They were designed with the Mselect grip that offers excellent, flexible, and clean traction. It is issued that can be worn throughout the day due to the very eco-friendly footbed. It has been invented with a durable leather upper that will ensure that the shoe dries quickly even when it comes into the water. You should be able to secure the top of this shoe as and when is required. 
Little Kid's Hydro Lagoon Sandal
This is a cheaper option that is made from a combination of mesh and synthetics. This means that it is more likely to drive faster when it meets water. The bottom of the shoe is made from rubber, and therefore it offers sustainable traction. It gives the user a barefoot feel and can toggle on or off.
Little Kid's Hydro Canyon Sandal
This is a water-friendly shoe that is suitable for many different warm climates. Its versatility is quite impressive. When walking around with this shoe, your child will barely feel it because of its lightweight and durable design. This makes it friendly to secure the foot of the child but also makes it easy to clean.
Big Kid's Hydro Moc
If you're looking for a lightweight slip-on shoe, then this is one of the cheaper and more affordable options that you can purchase. It is a water-friendly option that does not require a large amount of effort to clean. The footbed of the shoe has been molded to provide you with consistent pediatric comfort. It is pretty durable and should offer enough protection to the soft feet of a child.
Little Kid's Trail Glove 5 A/C Shoe
This shoe has been designed to be a follower, not a leader. It grows with your child and has been created to assist with the natural movement of their steps. The product comes with a superior grip that will help to prevent scuff marks on the tiles in your house. It should feel as though they are walking barefoot due to the product's lightness and breathability.
Big Kid's Dragonfly Sandal
This issue offers the user a quick-drying ability due to the mesh and leather combination of materials used to create the product. It provides alternative closure and therefore provides impressive adaptability. It has a soft molded footbed that is quite flexible; therefore, it will provide you with consistent comfort regardless of the terrain.
Buyer's Guide
Are minimalist shoes good for children?
Children's feet muscles are still in the development phase, and this means that they need to be given the room they need to grow. Putting children in shoes that restrict their feet can have permanent and lasting damage.
This is the reason why pediatricians advise that children are put in shoes that allow them to develop properly. Walking barefoot is recommended, however, the world we live in has several health and safety hazards that could hurt a child's foot. 
This is where minimalist shoes come in. They keep your child's feet safe from cuts, scrapes and bruises, whilst also keeping minimum interference between the ground and the feet.
The wide toe boxes in most minimalist shoes, also help allow for toe splaying and this adds to the natural element needed.
A wide toe box is important because, in early development, a child's foot is normally flat and with wide toes. 

What should I look for in a child's shoes?
It is important to closely study the child's shoe and ensure that it has the necessary features. A thin sole allows the activation of the necessary muscles.
Check on the drop of the shoe, you want to get shoes that have zero drops or the lowest possible heel to toe drop.
The shoe needs to be made of materials that are soft and flexible to allow the foot to move in the way it wants to.
The toe box needs to be wide enough so as not to restrict the toes or force them into an unnatural position.
Whilst you should not be guided by how the shoes look, try to look for fun and inspiring colors.
This also helps stimulate the child's senses. One of the most important things to consider is fit. The shoes have to be comfortable for the child. 
How do I know my child's shoe size?
A child's foot is not a miniature version of an adult's foot and this is important to remember. Go get your child's foot measured. Both length and width. This will help you find the right size. Make sure the shoes you buy are not too big.
The excess space can be the cause of friction and, consequently, blisters. You can leave about half an inch between the shoe's edge and the toes, and this should be sufficient room.
Conclusion
Your child's feet deserve a fair chance to grow and develop as they have been meant to do. When going shopping for your child's minimalist shoes, take your time and know what you are looking for.
It is possible to get great shoes for your child's feet and tickle their fancy. We hope the top picks we have reviewed give you an idea of which ones will do the trick for your little one. Happy shopping!

Latest posts by Dave & Clare Thompson
(see all)